You met the love of your life. Now it's time to pick out the engagement ring of her dreams…and it's completely overwhelming you, but don't worry – SuperJeweler is here to help you!
The number one question that comes to mind when starting your engagement ring hunt is, HOW MUCH AM I SUPPOSED TO SPEND??? Well, we're here to tell you – DO NOT OVERPAY! On average, people spend EIGHT THOUSAND DOLLARS on an engagement ring, but at SuperJeweler you can SPEND HALF OF THAT and still get a HUGE diamond! How you ask? We cut out the middle man, so the diamond comes straight from us and goes right to you at the lowest prices online for engagement rings! A solitaire ring, halo diamond ring, whatever you fancy, we've got!
Don't be a fool and spend 3 months salary! Those days are long gone.  Spend 3 weeks salary (not 3 months!) when you shop online with SuperJeweler.com! Your friends will envy how much money you still have in your bank account and your soon-to-be-bride will be overwhelmed with joy that there will be more money to spend on the wedding and honeymoon!
By the way, according to MarketWatch.com, the more you spend on engagement rings and wedding ceremonies, the shorter the marriages are! So, those that spend less on their engagement ring are less likely to get divorced!! If that doesn't make you shop with us, we don't know what will!
Now that you know you can get a bigger diamond for less with us, you need to figure out the size and shape you would like the diamond to be and the type of setting you'd like for the diamond ring. We can help you with that because engagement rings are our specialty!
Pointer: The average center diamond size on an engagement ring is 1 carat
Bonus: You can afford a bigger diamond for less with SuperJeweler!
As a woman, I know it's hard for men to read a woman's mind, although we wish you could! So, I'm going to give you a few insider tips on what we women want in engagement rings!
Most Important Features of Engagement Rings (In the Eyes of a Woman)
Size of the diamond
How big the diamond is
That the diamond is big
Hugeness of the diamond
That you don't blow all your cash
I think you get the point! 🙂
Okay, so now that you know what she wants as far as features, next step is to figure out the details of her style. Is she fashion-forward?  Is she traditional? Or does she like a little funk? Maybe she wants something vintage? That's for you to find out and us to provide!
For The Fashionista
Fashionista's love them some bling! They love to be on-trend and stand out from the crowd a bit. For example, they would love an engagement ring that is slightly different than the average diamond ring. Spoil them with our halo engagement rings! We have so many to choose from, but this one is right up a fashionista's alley! Extra tip – rose gold is so hot right now and it doesn't look like it's going out of style anytime soon – request this engagement ring in rose gold! If your lady loves all things feminine, LOOK NO FURTHER, this is the ring for her!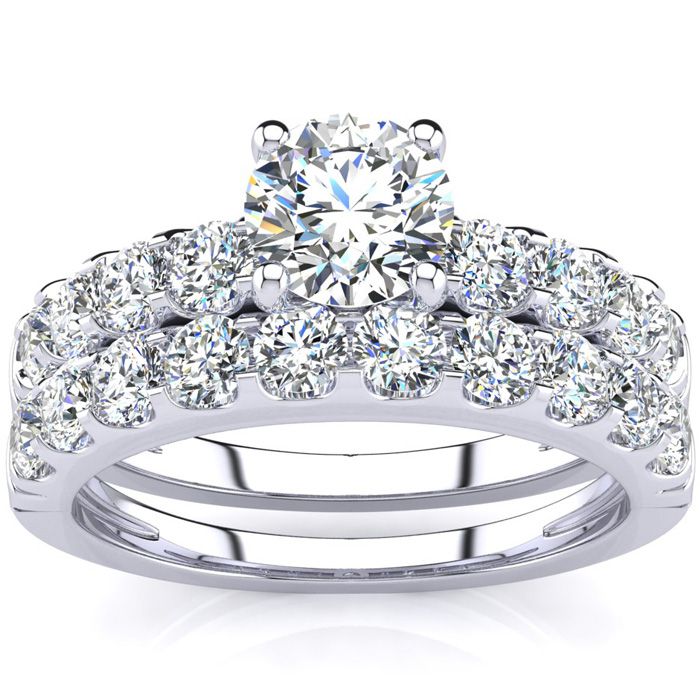 For The Classic and Traditional Woman
The classic woman knows what she wants and isn't going to settle for less. Her sense of style will never fade and she wants a ring that resembles that. Our number one suggestion for the traditional woman is a round stone set on a 14K white gold or yellow gold band, which we call a solitaire ring.


For The Funky- Lady Fresh
Your love isn't afraid to stand out in the crowd. She's a show-stopper and her diamond ring needs to be, too! For the funky-fresh ladies, we suggest the bigger, the better! And yellow gold is always a YES!



The Vintage Lover
The vintage lover is an old soul. She loves anything sentimental with unique flares that will stand out because it's different. She doesn't want to be like everyone else. Bring her back in time with SuperJeweler's vintage engagement rings. She'll love it for lifetimes to come!
Now that you have all of the insider types, go take a look at what we have to offer on SuperJeweler.com! And remember, if you need any help our Customer Service Team is here to help you. Just give us a call!
And, don't forget to shop with us for your wedding rings!
877-888-0175