The diamond tennis necklace is one of the most extravagant pieces of jewelry a woman can wear, yet it is also recognized as a truly classic piece of jewelry that will never go out of style. Unlike more elaborate necklaces, there are not a lot of flourishes or intricate styling in a tennis necklace. Instead, the focus is on the quality of the stones themselves and mountings that gives the tennis necklace the look of an unbroken strand of diamonds while securely holding each stone in place. It's all about superior quality and elegant simplicity. So how should you wear your Diamond Tennis Necklace?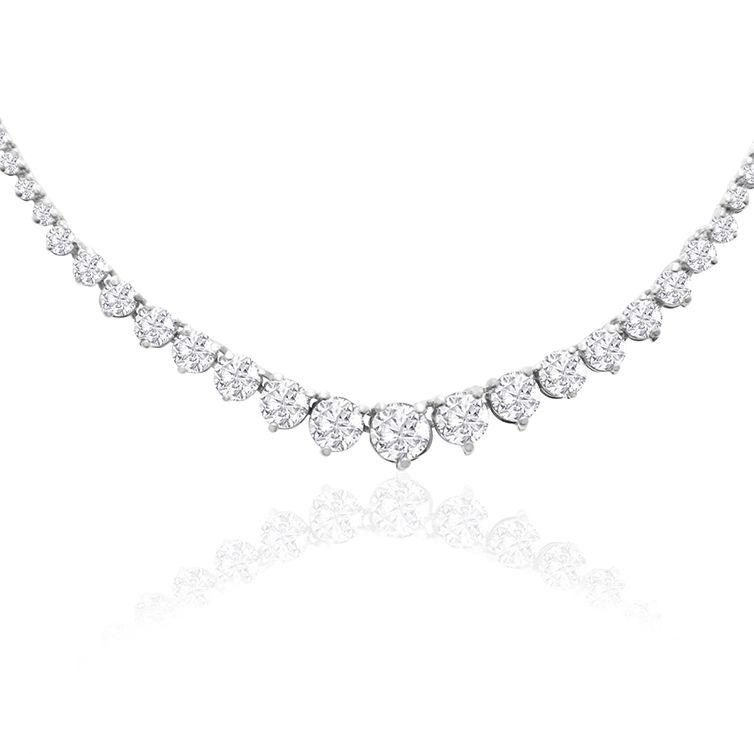 White or Yellow Gold?
While in the past many believed that you should only wear a white gold tennis necklace with other white gold jewelry, this tradition has fallen by the wayside. Mixed metals are all the rage these days, so it doesn't matter if you have a yellow gold tennis necklace or white gold – you can wear your necklace with any other jewelry you own. The focus should be on the quality of the jewelry and how well the various pieces coordinate and complement each other.
Make Your Diamond Tennis Necklace the Star
There's something magical about wearing a strand of diamonds that can't be beat by wearing any other piece of jewelry. If you want to wear other pieces with your necklace, choose those that have the same clean lines and quality stones. At SuperJeweler, you'll find diamond tennis bracelets and diamond earrings that are the perfect foil for your tennis necklace. Steer away from pieces that are too elaborate or fussy. Clean lines and the sparkle of your diamond tennis necklace's multiple stones should be the focus.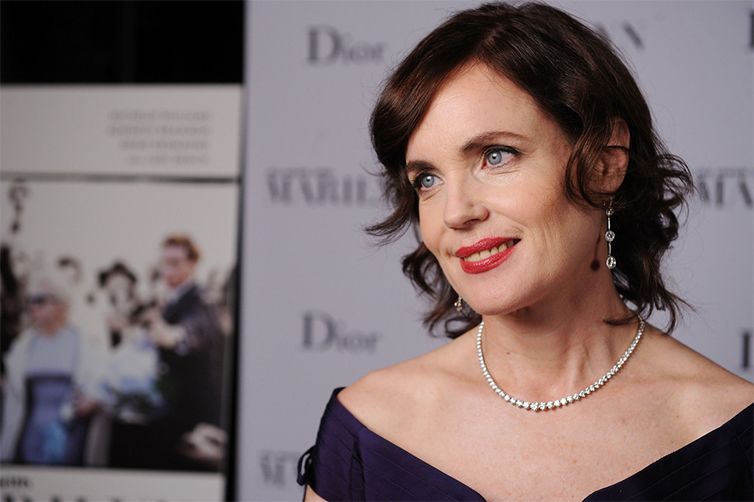 Don't Be Afraid to Stack
You want your diamond tennis necklace to be the star, but that doesn't mean you can't add another necklace or two to create a dazzling style of your own. Try wearing a single diamond pendant on a shorter chain suspended above your tennis necklace, or stack two or more diamond tennis bracelets on your wrist to multiply the sparkle. The key is to have the stones in at least one bracelet in the same cut as your diamond tennis necklace so they coordinate without being to matchy-matchy.
Necklines that Enhance a Tennis Necklace
Most diamond tennis necklaces are 17" or 18" in length so they can be worn with almost any neckline. A graduated necklace looks spectacular with a deep V-neck or halter style neckline. A crew neckline or more casual collared blouse looks lovely when you wear a classic tennis necklace with all the stones the same size for an unbroken line of sparkle. The crew neck is also a great background for stacked necklaces if it is a solid color top; a print may be too busy for multiple necklaces. A sweetheart neckline shows off the many stones of a tennis necklace in either style to full advantage. If you'll be wearing a strapless dress, you're in luck – the unbroken line of your neck and collar bone is the perfect background to show off any style of diamond tennis necklace, the larger the stones the better.