You are buying yourself your very first piece of diamond jewelry. Amazing! Your very first diamond is a memory you'll never forget. For the first time in your life, you are investing in a piece of diamond jewelry of your very own, that you are selecting. This is such an important purchase. SuperJeweler has some ideas to help you decide.
Here are five classic diamond jewelry pieces to consider as your first diamond:
1. Diamond-By-The-Yard Necklace
The Diamond-By-The-Yard necklace has the unique ability to enhance any outfit. Set with 10 diamonds of 5 points each in bezel settings on a white gold chain, this necklace will look elegant worn with any outfit. As an interesting idea-you can layer the necklace by acquiring other gold colors over the years. You can't get anymore classic than this.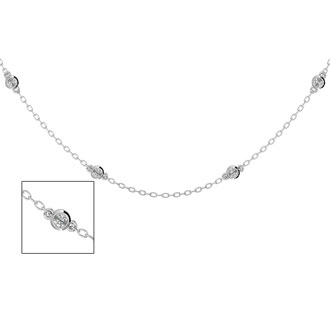 2. Halo Necklace
Do you want people to go "Wow!" when they see your stunning piece of jewelry, yet be able to wear it every day? If you do, a diamond halo necklace will do the trick! The 3/4-carat round diamond surrounded by pave diamonds on a thin white gold chain will generate a dazzling effect on anyone who comes across it.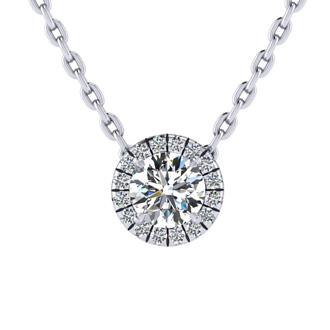 3. Martini Style Diamond Stud Earrings
If you don't have diamond earrings in your collection, these diamond stud earrings set in a martini style would be a great choice. These earrings contain two 1/2 carat diamonds for a total weight og1 carat and are set in 14k yellow gold.
Whether you're out and about, or chillin' at home or at the office, you can make diamond stud earrings a part of your everyday wardrobe. There are some earrings you just don't take off because they go with any outfit and are great for every occasion. Well, these are those earrings.
4. Hoop Earrings
If you love hoop earrings, consider these 2 carat round diamond hoop earrings set in 14k white gold. These hoop diamond earrings move with you while sparkling in the sunlight. They will sparkle, shine, and glimmer in the day and whenever light shines on them. If you want to add a hint of allure to your outfit, and make it go from drab to charming, make these diamond hoop earrings your first piece of diamond jewelry. Check out SuperJeweler's entire Diamond Hoop Earring Collection here.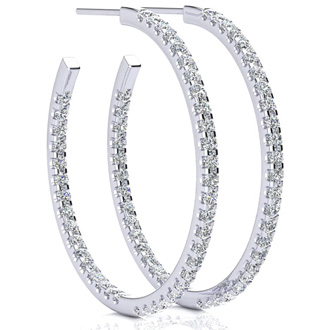 5. A Diamond Tennis Bracelet
The diamond tennis bracelet setting itself is a thing of beauty! So simple and elegant. This 14k rose gold bracelet features 3 carats of prong set diamonds set in an endless circle. You can wear the diamond tennis bracelet by itself or wear several bracelets to create a layered look. If you love diamonds and bracelets, this diamond bracelet is your dream come true!
Are you looking for diamond bracelets, rings, necklaces, earrings, or personalized diamond jewelry?
If you are, SuperJeweler is a fantastic site to acquire your first piece of diamond jewelry ! We guarantee that you will be so happy!