SuperJeweler is clearly the best place to buy an Opal Ring! Check out our amazing questions and answers!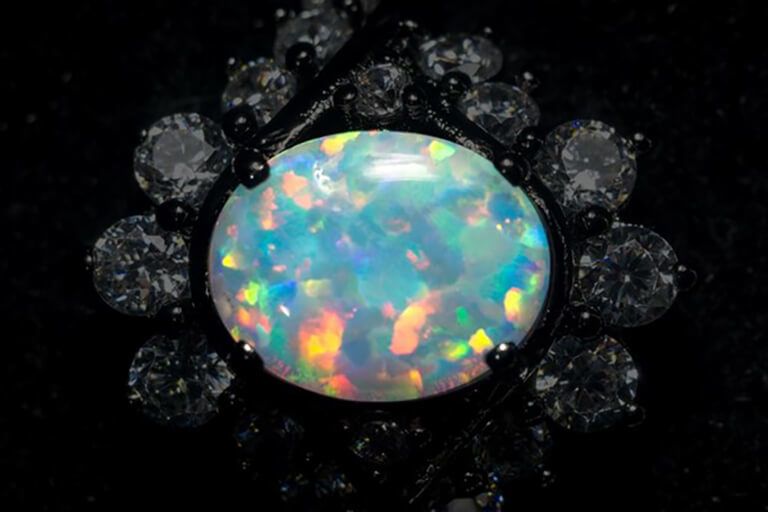 How Much Is An Opal Ring?
In 2022, owning an opal ring is very popular. This brings us the question of how much should you spend on an opal ring? This is a very good question. An opal ring made in 925 sterling silver could start as low as $20. While a white gold opal ring or a rose gold opal ring can start at about $200 and up to $2000, depending on if the ring contains any diamonds. A very fine opal ring, with 18 karat gold and a gem quality opal would generally range from $2500 up to $25,000. How much you spend on an opal ring depends upon your personal style and budget.
The price of an opal ring can very on the quality of the opal, but it also depends upon the type of precious metals used to make the ring, and the addition of diamonds on the ring. A small opal ring in sterling silver can be very low priced. A big, fancy opal ring, crafted in solid gold with lots of diamonds can be a very expensive piece of fine jewelry, possibly as much as $50,000 or $100,000.
How To Clean An Opal Ring?
Opal is a soft gemstone to cut but they can be worn with average to reasonable care for many years. It is best to keep your opal ring clean. To do this, take a small jar, add a couple teaspoons of dish liquid and warm water. Then shake it vigorously to make a cleaning solution. Then put the opal ring in for a couple of hours to soak. If needed use a very soft toothbrush to gently loosen debris under the prongs and from under the opal. Soak the ring again for another hour, then rinse it in clean warm water. Dry the opal ring with a soft cloth, and it should be clean and much brighter!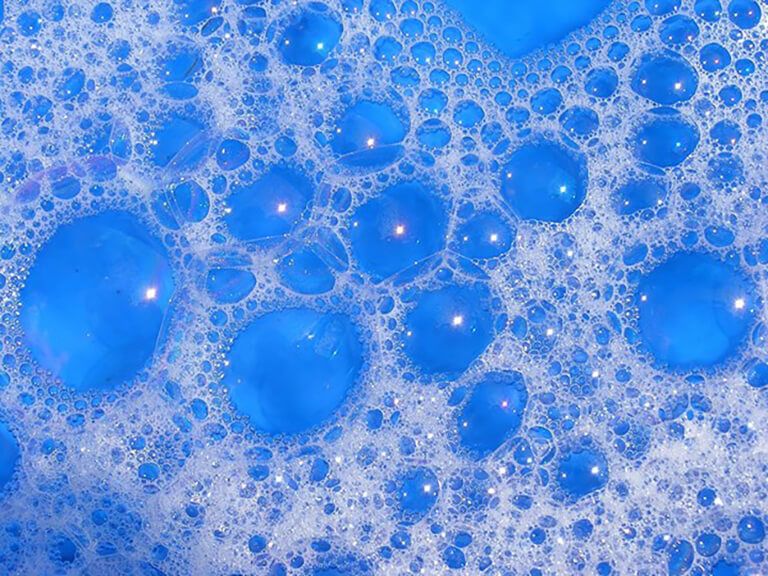 How To Tell A Real Opal Ring From A Fake?
A genuine opal ring is among the most beautiful kind of jewelry to own and wear. However, how do you tell a real opal from a fake opal? Real opals are easy to identify as they feel cold, like smooth rocks. Be sure to always look at your opal from the side. There are a two main types of fake or rather simulated opals, and both are somewhat easy to identify. The main type of simulated opal is made of plastic and therefore, feels like plastic. Another type of simulated opal contains slices of real opal, with a plastic or gemstone backing, which makes the opal slice look very fiery. If you see that it looks like layers, that's called a doublet opal or a triplet opal. There are also a variety of very beautiful, created laboratory grown opals, and they are very affordable. SuperJeweler sells both natural Australian opals and the highest quality of created laboratory grown opals.
Where to Find An Opal Ring Near Me?
Look around! Do you see an opal ring near you? Seriously, it's best to buy an opal ring from an internet jeweler like SuperJeweler.com. No store can possibly match the enormous selection and amazing prices like a global store like SuperJeweler. Whether you are looking for a small opal promise ring, or a very fine, important opal ring, we are here to make sure you get an amazing opal ring!
Where to Find An Opal Engagement Ring?
Few jewelers have ever made an opal engagement ring. So, finding an opal engagement ring near you could be difficult. Put your trust in SuperJeweler.com and we will help you get just the right opal engagement ring. This includes getting exactly what you want: a white gold opal engagement ring; yellow gold opal engagement ring; or rose gold opal engagement ring! Whether you are looking for a natural opal ring in silver or a white gold opal ring or a rose gold opal ring, SuperJeweler has hundreds of styles to fit every budget.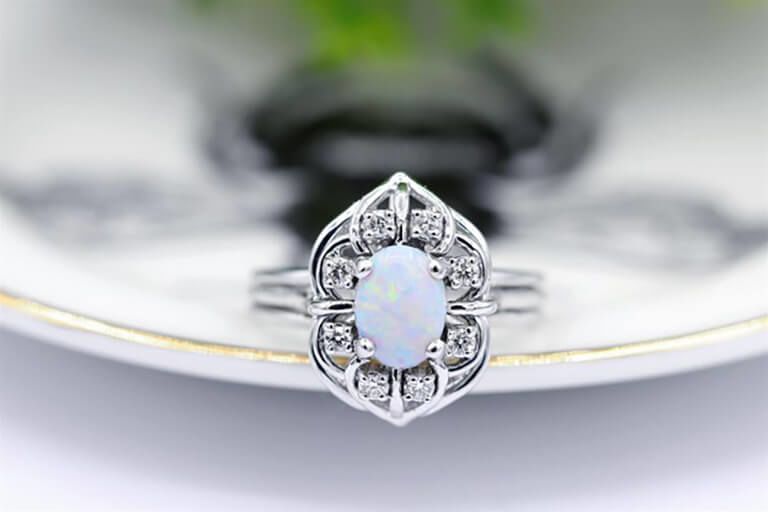 Is An Opal Ring Popular For Women?
Owning an opal ring is very popular for women regardless of where you live. The problem is usually that consumers are not able to find enough of an opal ring selection to satisfy their tastes and style. Whether you are looking for white gold or a yellow gold opal ring or an opal ring in rose gold, SuperJeweler has a fantastic opal ring selection for women, and more styles than any other jeweler. Plus, the opal ring that you want is priced right! Starting from $49 to $4999.
Where Is The Best Opal Ring Selection?
SuperJeweler has a large opal ring selection that is larger than any other website or retail store! Check out our fantastic white gold opal ring, large opal ring, opal engagement ring, yellow gold opal ring options and prices. You will find an opal promise ring, an opal ring in silver and an expensive opal ring selection. When you are ready to shop for an opal ring, SuperJeweler is here for you!
Can You Get An Opal Ring Wet?
It is absolutely fine to get an opal ring wet. Cleaning an opal ring is very simple. Your opal ring will not take any special care to keep it clean and beautiful. Just take a small empty jar and make a mild solution of dish soap and warm water. Then soak your opal ring for a couple of hours and rinse it off with clean warm water. Dry it off with a soft cloth.
Can You Resize An Opal Ring?
In general, there is no difference between sizing an opal ring or any other gemstone ring. The important thing is to have your ring sized and service by an expert jeweler, like SuperJeweler.com.
Do Diamonds Look Good On An Opal Ring?
Opals, especially fine quality fiery opals, look extremely beautiful with diamonds surrounding them. An opal engagement ring with diamonds in the mounting, is an amazing classic choice to express your love. The play-of-color and fire found in good quality opals, will remind you of the sizzling love you have for each other. Diamonds for sure, make an opal ring more stunning.
Where to Find An Opal Ring With Rose Gold?
Rose gold looks rich with opals. Yet oddly, it is hard to find an opal ring selection made in rose gold. This is because rose gold has only recently become popular, and opal is not one of the most popular gemstones. SuperJeweler has dozens of opal ring styles that you can order an opal ring with rose gold, an opal ring with white gold, and an opal ring with yellow gold. In fact, you might like an opal ring with rose gold as an opal engagement ring. At SuperJeweler you can find what you want at a price that you can afford!
An Opal Ring For An Engagement Ring?
At SuperJeweler, we think that an opal ring is ideal for an engagement ring! What an amazing classic choice. An opal ring as an engagement ring would be great with a halo of diamonds in 14 karat white gold, or maybe a rose gold opal engagement ring. If you can imagine getting engaged with an opal engagement ring, SuperJeweler can make the right ring for you. There are two fantastic benefits to buying an opal engagement ring. Firstly, an all-diamond engagement ring would generally cost about 3 or 4 times higher than an opal and diamond engagement ring. Secondly, an opal engagement is unique and as special as your love! Everyone will be impressed with your choice.
Is An Opal Ring Bad Luck?
This notion came about because at one time, opal was not plentiful. So, to keep up with the demand, opals were sometimes cut too thin for practical wear and often broke. In history, the Romans thought that opal was very good luck and a symbol of hope. Additional interpersonal traits of opals include truth and happiness. An opal ring is a great choice to add to your fine jewelry collection!
Where To Buy An Opal Ring?
Most jewelers have an opal ring selection but usually it is limited to only the basic styles. The question is why you should buy an opal ring in one store versus the other? It's about selection and price! A local jeweler could never stock an opal ring selection of hundreds of styles like SuperJeweler.com, and they certainly cannot compete with our volume prices. SuperJeweler.com has a fantastic opal ring selection with diamonds and without, in white gold, yellow gold and rose gold. Plus, at SuperJeweler, you get the right price; the right quality; and the best customer service!
Learn More About Opal Jewelry: