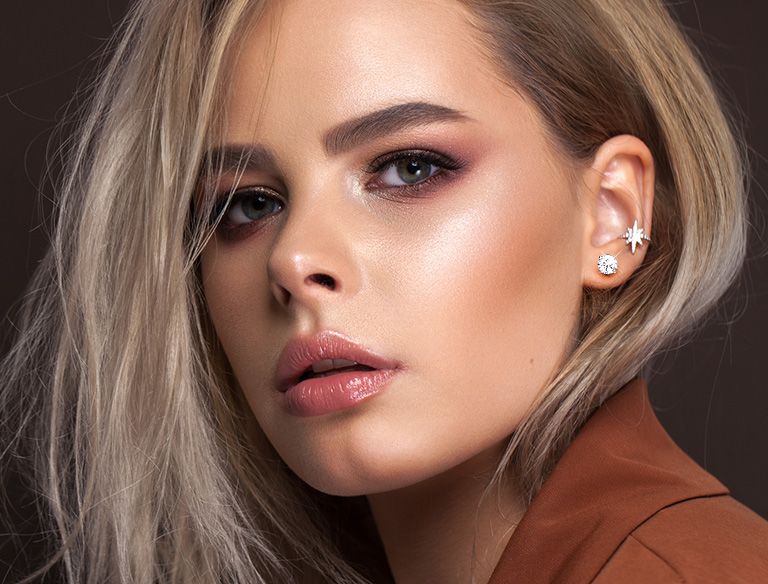 How to Buy Diamond Stud Earrings
The most popular jewelry gift for women in 2021 is trending toward diamond stud earrings, a perennial favorite. You don't have to know a ring size or worry about the right necklace length. That doesn't mean there aren't lots of options when shopping for diamond stud earrings for women. The size of the stone, the style and setting, and what kind of gold is best should all be considered. Our buyer's guide can help you choose an exquisite pair of diamond stud earrings that will thrill both your loved one and your wallet.
The Importance of Properly Matched Diamond Studs
Some women prefer as much flash and sparkle as possible. If she's into bling in a big way and it works within your budget, choose larger stones of high quality. Keep in mind that larger stones are more expensive not only because they are rarer but because it's more difficult to get a matched set of larger stones that pair well. You have to consider the color and clarity of both stones, so they look good together. At SuperJeweler, all our diamond earrings feature carefully selected and matched gemstones chosen by our own jewelers.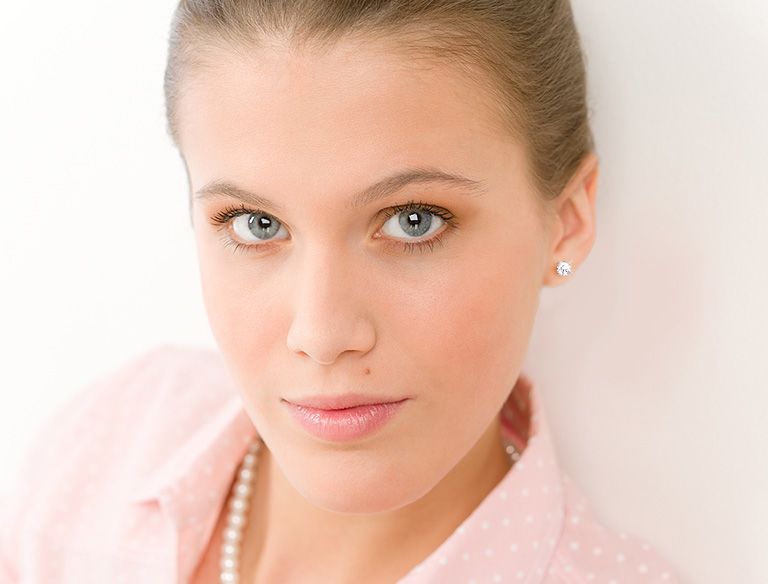 Color, Cut, and Clarity
You always want to consider the color, cut, and clarity of diamonds when shopping. Still, color and overall clarity aren't as critical for earrings as for an engagement ring or solitaire pendant. You want to wear diamond stud earrings that look similar, but if you are on a budget, slightly lower clarity or a hint of color in the diamonds isn't as critical as it is for a large solitaire. However, a finely cut stone is crucial, as this affects how much light passes through, affecting the sparkle of the diamonds.
Round cut and princess-cut diamond stud earrings are by far the most popular because they are symmetrical. These stones are easier to match for a pair of earrings and refract light in all directions. You also don't have to worry if they are correctly oriented as you would with, for instance, pear-shaped diamonds.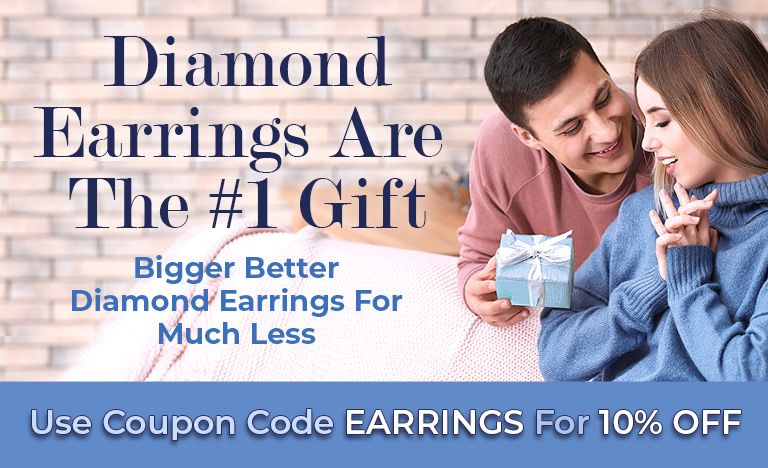 Precious Metals for Women's Diamond Stud Earrings
Diamonds are the most coveted and precious gemstones in the world. It's no surprise that they are almost always set in gold or platinum. The most popular is 14K gold, strong enough to hold your diamonds securely in place while providing the subtle sheen of precious metal. If you opt for gold, you'll want to consider the color. White gold diamond stud earrings outsell all other styles because the white gold fades into the background, letting the diamond have all the attention. White gold doesn't impart any color to the gemstone itself, so it's a great choice if you want your diamonds to look as colorless as possible.
Other options include yellow and rose gold diamond stud earrings. Many women prefer these if they stick with one shade of gold for most of their jewelry. Consider a simple gold mounting for your diamond stud earrings if you love the warmth of yellow gold. The touch of color is minimal and seen only where the prongs or setting hold the stone. Rose gold diamond stud earrings have gained a following in the last few years as interest in the romantic, pink hue of the gold has grown. Rose gold is particularly feminine and romantic if you long for earrings that are a bit unusual.
Click Here To Shop Rose Gold Diamond Studs
Platinum is the most luxurious choice for diamond stud earrings for women. It's the most expensive precious metal for jewelry because it's rare, but it's also more robust and denser. It wears longer and is less prone to damage. However, it does scratch more easily. For diamond stud earrings, platinum is an excellent choice for larger diamonds or if you are hard on your jewelry. Platinum comes only in white and has a soft luster to it rather than the glossier finish of gold.
Style Options
The settings or mounting for diamond stud earrings are primarily style choices. Whether you choose a basket, prong, or bezel setting, SuperJeweler's diamond earrings are always securely mounted. Prong settings are quite popular. These feature four prongs that hold the gemstones in place and allow light to shine through the stones' facets from underneath. Martini diamond studs are a newer variant using three prongs rather than four. This mounting is often used with smaller diamond stud earrings to minimize the amount of metal showing and maximize the appearance of the stone.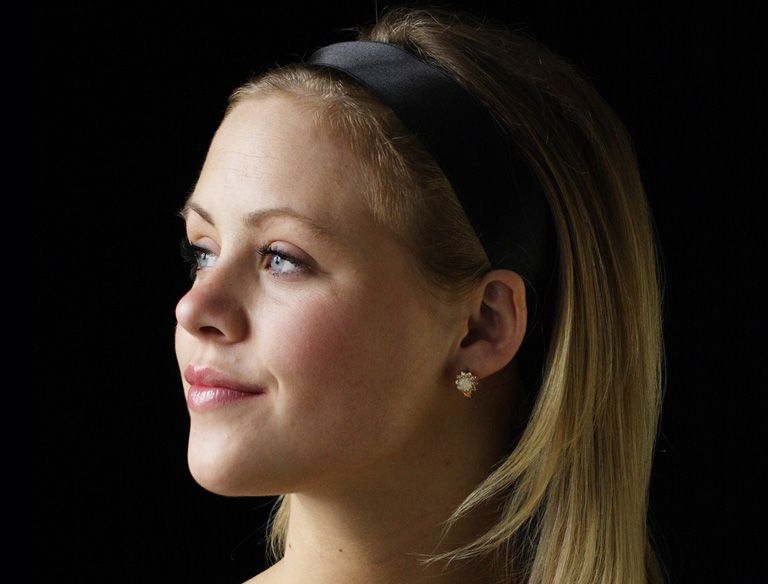 Click Here To Shop Martini Diamond Studs
A basket setting is shallower, so earrings are less likely to catch on your hair or clothing. Not as much light gets through a basket setting because there is more metal on the sides, and the stone is set lower. It is also sturdier because of the additional metal.
Bezel settings are a third option. Diamond earrings in bezel settings have a more contemporary look, with the gemstones encircled in a solid, thin band of gold. These are stylish but have the least amount of diamond sparkle because the light is only hitting the diamonds from the top. The sides, being encased in gold or platinum, don't refract light from the sides or bottom of the gemstone. Bezel set diamonds earrings are also extremely safe because the stones are surrounded by metal, virtually eliminating any chance of the diamonds snagging or catching on anything.
Regardless of what the setting is for your diamonds, the earring back is also important. SuperJeweler features both push or notched-back earrings as well as screw-back diamond earrings. Both securely hold the earrings in place, but some people worry about losing their diamond stud earrings. Screw backs are the best choice if you are concerned, as these screw into place, much like a nut and bolt. If you prefer something more manageable to get on and off (arthritis can make things difficult for some of us!), a notched back is the answer. These have backs that snap onto the post, which is notched to hold the back in place.
What Size Diamonds Are Best?
The right size gemstone for diamond stud earrings is what size you want to wear vs. what you can afford. The most commonly sold are ½ carat diamond stud earrings and 1-carat diamond studs. These both make an impressive statement and are ideal for everyday wear. For anywhere from $300 to $2,000, you'll find ½ carat diamond stud earrings set in every shade of gold and platinum. You'll pay more for 1-carat diamond stud earrings, which start at around $800 at SuperJeweler and can go up to $3,000 for nearly flawless, colorless stones.
Don't discount the beauty of ¼ care diamond stud earrings for everyday wear. They are large enough for impressive sparkle but understated and simple, perfect for leaving in all the time. They don't overpower simple jeans and blouses but retain the allure of a precious stone. ¼ carat diamond studs are also an attractive option if you have smaller earlobes or are giving them to a teenager as their first pair of fine jewelry. Smaller carat weights are ideal for anyone who wears multiple earrings in each ear. They can complement more elaborate or dangling earrings with a bit of added glimmer.
For evening wear or maximum "wow" factor, browse our selection of 2-carat diamond stud earrings. Priced at thousands below standard retail, you can find luxury quality diamond stud earrings in gold and platinum that are sure to be treasured and handed down.
Affordable Diamond Stud Earrings
SuperJeweler offers nearly endless options for your diamond stud earrings. If you long to own a pair but have limited funds, check out our selection of affordable diamond stud earrings, where you'll find lovely options starting at less than $100.
We also carry a complete line of moissanite stud earrings, which have the beauty and fire of a diamond at a lower price. Moissanites are gemstones in their own right and are created in labs, giving them flawless clarity. They have even more sparkle than diamonds, sending off a rainbow of colors as light passes through the facets. The combination of lower cost and maximum sparkle makes moissanite stud earrings an option for many.
SuperJeweler's experts are happy to help if you have any questions about diamond stud earrings. Our jewelers can make your shopping experience an enjoyable one and ensure you end up with the perfect diamonds for you or your loved one. As always, whether you pay $200 or $10,000 for your diamond earrings, they are backed by SuperJeweler's quality guarantee.