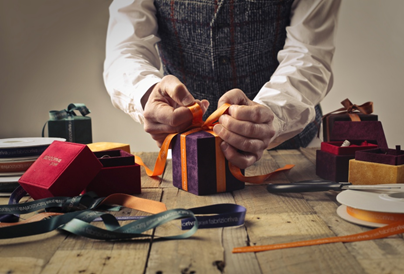 Your special day is on the horizon, and we all know how much you want to make your girl feel special.  Everyone wants to get a special and memorable gift, and especially one she will use a lot. In case you're struggling to find the perfect wedding gift for her, here are some helpful ideas to get you started.
Something Sparkly (and maybe even expensive)
This is the perfect time to pamper your girl by showering her with one lavish and expensive gift, instead of a bunch of little stuff. If there is one person you should be spending your money on, then it's her. After all, weddings and anniversaries of the most special moments for any couple, and both of you should be equally invested in this occasion.
1. Diamonds
If there's anything we can tell you about women, then it's that they love diamonds. Diamonds are mysterious and beautiful. She will appreciate the effort and investment you made on her and more importantly, diamonds have their own way of shining the brightest.
When your girl finally puts on those diamonds, there is nothing that can stop her shine. Try getting her a beautiful white gold diamond earrings as they are more elegant and will work well with all her outfits. If she likes to wear fancy jewelry, then you can get her diamond hoops earrings instead. Otherwise, you can always go with martini diamond stud earrings, which are exceptionally beautiful and durable.
Personalized gemstone jewelry has become increasingly popular, and for good reason. Getting custom-made jewelry immediately sets the bar high when it comes to wedding gifts. By adding a personal, more intimate touch to your gift, you can successfully convey your deep emotions.
3. Matching Wedding Rings
Rings are the perfect couple of gifts. If you don't have matching rings already, then seize this moment to get her and yourself nice rings. So many styles now come in both men's and ladies rings sizes, so with a little digging you might find an amazing unisex wedding band that you can both love.
Something that Smells Good
Fragrances are scents that are extremely nostalgic and aesthetic. When you love someone, you are more likely to remember their scent. In fact, it's not just a thing between lovers; anytime you come across a familiar scent, your mind can instantly recall the place, time, and situation you were in. This is what makes fragrance an excellent wedding anniversary gift.
4. Flowers
If you want to keep it simple or want to add something more alongside the jewelry, then gift her a huge bouquet of flowers. Alongside gifting her amazing jewelry, why not go for a personally arranged bouquet of roses. Red roses symbolize passionate feelings of love and affection. Your local florist can help you pick exactly the flowers that match her personality, and do it in a way that no internet florist can ever match.
5. Perfume
Don't love flower (they die fast!), try pairing a floral perfume with diamond earrings.  When she walks down wearing that sweet-smelling perfume along with the fiery diamond studs, you'll know for sure there couldn't be a better wedding gift.
If you're looking for bright diamond earrings or diamond stud earrings, then check out SuperJeweler.